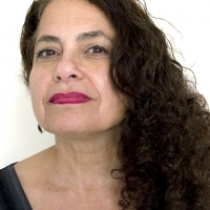 Valerie Pettis
Clinton United States
http://www.pettisdesign.com
---
About me
Valerie Pettis is known for her distinctive typographic style and conceptual wit. She has designed visual communications for international corporations including Citibank, DeBeers, JP Morgan Chase and Revlon, and many NGOs, notable among them UNICEF and The United Nations.

Highly respected by her peers, she has been invited to teach and guest lecture at many institutions including Fashion Institute of Technology, Parsons School of Design, Cooper Union, University of the Arts and Yale School of Art. She is also a past board member of the American Institute of Graphic Arts, and is the recipient of numerous awards from The Society of Typographic Arts, and the Type Directors Club, and American Institute of Graphic Arts.

Valerie Pettis and PettisDesign have been the subject of feature articles in Time Magazine, The New York Times, Print, Graphis, Progressive Architecture, etc. Valerie has been recognized by Idea Magazine as a major influence on contemporary graphic design. She is one of the designers covered in both "Graphic Design NY" and "Making and breaking the Grid" (Rockport Publications). Her work is part of the permanent collection in many international design museums such as Center for the Study of Political Graphics, US; Dansk Plakatmuseum, Denmark; Design Museum Gent, Belgium; Graphic Design Museum, The Netherlands; Lahti Poster Museum, Finland; Les Arts Decoratifs, France; Museum Für Gestaltung, Switzerland; Wilanow Poster Museum, Poland; and Victoria and Albert Museum, England.

In addition to her design career, she is also an avid distance cyclist.
My posters
My favourites Valerie hasn't favourited any poster yet.