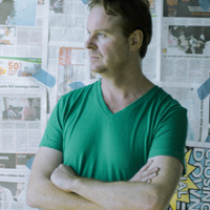 Edward Coffey
Sydney Australia
http://-
---
About me
A seasoned professional, I have spent 16 years working in design both in
New Zealand and Australia. My career is unique and has given me the opportunity to explore many dimensions of design to be exposed to a diverse audience.

My creative process is ongoing; it's the relentless pursuit for clarity and the seamless relationship between message and meaning.

My posters are socially and politically driven - as a designer, it's my responsibility to challenge the status quo, ignite conversation, and respond to adversity.

The world can be a funny and distorted place; yet the visual language has the power to break down barriers, educate and unite mankind. As a designer, the greatest reward is knowing your work can evoke change and awareness in so many.
---
My networks
My posters
My favourites Edward hasn't favourited any poster yet.