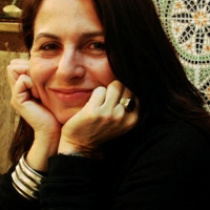 Ruth Klotzel
Sao Paolo Brazil
www.estudioinfinito.com.br
---
About me
Ruth Klotzel lives in São Paulo and works mostly in editorial design and corporate identity.
She received her MA from the school of Architecture and Urbanism of the University of São Paulo and taught at the architecture and design courses of Senac-SP and FAAP (Fundação Armando Álvares Penteado), for more than 10 years.
Ruth was one of the founders of ADG/Brasil in 1989, and has held the position of Director for four terms over the past 20 years.
She is also an international juror, lecturer and was an Icograda Vice-president for two terms, where she still collaborates at the peer review panel of Iridescent: Icograda Journal of Design Research.
She currently carries out design work in her studio, Estúdio Infinito, and serves on the board of directors of Mundaréu, an NGO dedicated to generate income for manufacturers out of the formal labour market.
Ruth is also one of the presidents of the BID - Iberoamerican Design Biennial, located in Madrid, Spain.