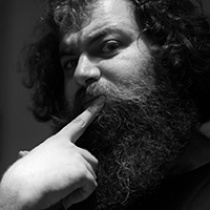 Dariush Allahyari
Tabriz Iran
---
About me
I am Dariush Allahyari.
Born in Tabriz, Iran, in 1987. I graduated from high school in Tabriz in 2003 and then I took the entrance exam and majored in Graphic Designing in Urmia shahid beheshty technical university and then followed my education in shiraz Eram university . I graduated from my BA course in 2013 .After spending my military service in 2015 I took the entrance exam for masters degree and currently I am studying in UCNA .
I have also been designing social posters from 2010 and anticipated in more than 40 domestic or international events and even have been a winner or finalist in many of them.
I love social posters designing because it is a reflection of what is happening in the world we live in ,so my duty as a designer is to enlighten free minds of this problems.

---
My networks
My posters
My favourites Dariush hasn't favourited any poster yet.