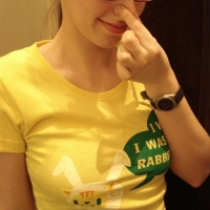 Marina Mijatovi?
Zagreb Croatia
http://marinamijatovic.tumblr.com/
---
About me
Marina Mijatovic was born in Zagreb in 1986. In 2005 she graduated form School of Applied Art and Design in Zagreb in departmant of sculpturing and industrijal design. In 2009 she got her bachelor degree in visual communcations at University of Zagreb, Faculty of Arhitecture - School of Design. 2012 she got her magister of arts at the same faculty. In 2011 she cofounded the Klub of design students.
She is a member of Croatian Design Society.
So far she had particaped and playd with lots of project, workshops, contests and exebitions. At the moment she is trying to see how things work in practice by working as a junior designer in Croatias local design studio, and working on her selfinitoned projects at the same time.
My posters
My favourites Marina hasn't favourited any poster yet.