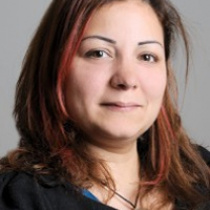 Diane Mikhael
Doha Qatar
http://www.i-linguadesign.com
---
About me
Diane Mikhael is currently Assistant Professor at Graphic Design Department, Virginia Commonwealth University, Qatar.
Diane holds an MA in Design from Middlesex University, London, in 2000. She has been awarded an International recognition certificate and membership from the International Society of Typographic designers (ISTD), London, in 1996.
Diane Mikhael has devoted the sixteen years of her career as a coordinator, design educator, design practitioner and researcher in the field of Graphic Design.
Diane has taught at Notre Dame University, Lebanon from 1996 till 2008, and joined Virginia Commonwealth University Qatar in August 2008 till present. Her teaching for undergraduate program encompasses the teaching of bilingual typography, design methods and processes, design in context, design forms and communications, print management, portfolio preparation, type design, website design, and motion graphics. She has also taught thesis for two years in the graduate program at Notre Dame University, Lebanon, and participated in the Graphic Design Curricula development.

Diane has worked for local and regional clients. She has lectured on design in various international, regional and local universities and conferences. She has been a guest speaker on several TV channels talking about design and promoting design activities, mainly Stars of Science reality TV show and Al Jazeera Kids channel in Qatar.

Diane has been a longstanding assessor in the International Society of Typographic Designers, London and the Middle East (ISTDME), and juror in the Lebanon Web Awards and many other regional professional competitions. She is also the project coordinator of the International Heritage of Photographic Experience (IHPE based in Spain) project in Qatar, hosted by VCUQatar.
My posters
My favourites Diane hasn't favourited any poster yet.