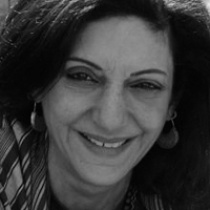 Leila Musfy
Lebanon
---
About me
Leila Musfy
AMERICAN UNIVERSITY OF BEIRUT •FACULTY OF ENGINEERING AND ARCHITECTURE• DEPARTMENT OF ARCHITECTURE AND DESIGN• tel [961-1] 374444 EXT•3678
FAX [961-1] 744462•MOBILE [961-3-312828] •EMAIL: musfy@aub.edu.lb


Leila Musfy is Professor of Design at the Department of Architecture and Design, American University of Beirut [AUB] since 1992. She helped in the launching of the then, newly creaated Graphic Design Program at AUB, the first program of its kind in Lebanon and the region. She holds an MFA degree from Cranbrook Academy of Art Michigan USA where she studied under Katherine and Michael McCoy.

Her professional design work ranges from book design and publications to corporate identities to posters. The major books she designed are:
'Riad Al Solh during his time' by Ahmad Beydoun; 'Of Symbols and Stones, a Travel Journal' by Leila Bisat; 'Memory of the South'; 'Ateliers Arabe'; 'Contemporary Art in Syria'; 'Beirut Giesen' and 'Jerusalem Today'. She also designed the catalogs for the Beiteddine Festival [1994, 1995, 1996, 1997 and 2004]. Some of the corporate identities she worked on are: BluFin sushi, Beiteddine Festival Committee, Order of Engineers and Architects, Arche de Noé children store.
Before moving back to Beirut in 1991, she worked at Ethel Kessler Design in Washington DC.

Leila Musfy's work has been exhibited at: Hangzhou, China 'Art Design Institute of China Academy of Art'; Tehran, Iran 'Second International Biennial of Posters'; Moulins de Villancourt, Echirolles, France '9 Femmes Graphistes'; Affiche Museum, the Netherlands 'Flowers of the East'; Zagreb, Croatia 'Zgraf 9 triennial of graphic design'. Her work was also published in: '1000 handmade greeting cards' by Laura McFadden and Deborah Baskin, Quayside Publishing, USA; 'ADI Design Award Graphic Design Annual Volume One' Art Design Institute, Hangzhou, China; '9 Femmes Graphistes' Centre de Graphisme d'Echirolles, France; World Wide Identity by Robert Peters; 'World Graphic Design: Contemporary Graphics from Africa, the Far East, Latin America and the Middle East, Merrell, London and New York.

Finally, she is a member of the Iridescent Advisory Panel.
My posters
My favourites Leila hasn't favourited any poster yet.