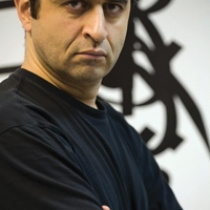 Majid Abbasi
Iran
---
About me
Majid Abbasi born in 1965 in Tehran, he graduated from the Faculty of Fine Arts at the University of Tehran in 1996 in visual communication. It was in this same year, having already enjoyed numerous freelance design commissions, that Abbasi set up his prestigious studio, Did Graphics Inc., with partner Firouz Shafei. Also a lecturer at the University of Tehran, following Morteza Momayez' invitation to join the university's Faculty of Fine Arts 2003-2007, Abbasi has been a member of the board and treasurer of the Iranian Graphic Designers Society (IGDS) in 2003-2006. A more recent venture has seen the launch of Neshan, the Iranian graphic design magazine for which Abbasi sits on the editorial board, while he is also a founder of The 5th Color, a collective formed by what he describes as "the new generation of Iranian graphic designers".
Abbasi's work has been published in numerous international magazines and books. In addition to this, since 1999, Abbasi has participated in many national and international exhibitions. His works are presented in museums, collections and galleries around the world and he has also received many national and international awards in recent years. He is a member of Alliance Graphique International (AGI) since 2009.
My posters
My favourites Majid hasn't favourited any poster yet.