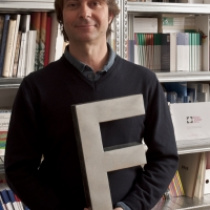 Francesco Dondina
Milano Italy
http://www.dondina.it
---
About me
Francesco Dondina was born in Milan in 1961 and is a founding partner of Dondina Associati. After studying humanities and law at the State University of Milan, he gravitated toward visual communications in the early 1980s. He is self-taught and spent his formative years studying the masters of Italian visual design: Bruno Munari, AG Fronzoni, and Bob Noorda. After working as an illustrator and then as a graphic designer, he founded his first studio with Davide Besana in 1986, which ten years later became Dondina Associati.
He's produced corporate identity, publications, and ads for numerous clients including Giorgio Aramani, Krizia, Valentino, Gianfranco Ferrè, Moschino, Cassina, the City of Milan. For ten years he managed the brand identity of the photographer Fabrizio Ferri's Industria Superstudio. With Ferri he's collaborated on several international print campaigns for fashion brands such as Salvatore Ferragamo and Strenesse.
In the early 2000s, he produced retail design for several Feltrinelli bookstores in Italy and for Fabriano Boutique in Milan, Rome, and Turin.
He has designed over 100 books on art, photography, design and architecture.
From 2003 to 2008 he was the art director of the photography gallery, Galleria d'Arte Contemporanea Fotografia Italiana. Since 2007, he has been art director of the publishing house Editrice San Raffaelle and of the magazine Kos.
Recent international clients include the American Ballet Theatre and the Museum of Modern Art, New York.
Francesco taught visual communications at the Università dell'Immagine of Milan from 1999 to 2003. Currently he teaches visual culture and photo editing at the Istituto Bauer of Milan as well as graphic design at the Politecnico of Milan in the Department of Interior Design.
His publications include Segni e sogni (Charta, Milan, 2005); Caratteri mobili, Un sedicesimo (Corraini, Mantova, 2008); Tipi di Carattere (Edizioni Lucini, Milano, 2008); Bob Noorda, una vita nel segno della grafica, dialogo con Francesco Dondina (Editrice San Raffaele, Milano, 2009).
My posters
My favourites Francesco hasn't favourited any poster yet.