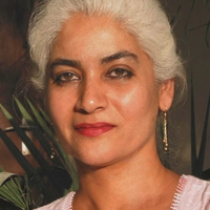 Durriya Kazi
karachi Pakistan
---
About me
Durriya Kazi is an artist based in Karachi. Currently she heads the Department of Visual Studies, University of Karachi, which she helped establish 1n 1998.

Her activities as an artist, an art educator, and a participant in all aspects of the art debate, focus on voicing "hidden histories". Seeing art less as object and more as experience/intervention, conversation, her aim is to bring art away from the periphery to a more central place in society. Her public art projects reach out to wider audiences and link contemporary art concerns with popular urban art practices. She has researched traditional and popular arts and has presented papers on these subjects.
My posters
My favourites Durriya hasn't favourited any poster yet.