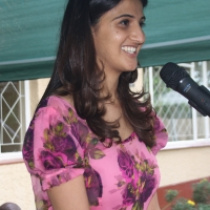 Priyanka Handa
Gaborone Botswana
http://www.rewaedu.org
---
About me
Priyanka Handa is the director of the REWA Education Centre in Gaborone, Botswana. Here, she provides a variety of services which range from consulting, teacher training, adult courses and student support in Maths and English tutoring - to mention but a few.

Being a citizen of Botswana, growing up here but completing all secondary and university education in England, Priyanka Handa is well versed in both the British system and the Botswana primary system of education. Matriculating from Sevenoaks school in 2003, a top co-educational boarding school in southwest England, Priyanka completed the IB and went to on to study a degree in English Language and Communication at King's College London, followed by an MSc in Social Psychology at the London School of Economics and Political Science (LSE). During this time, she focused her research thesis on children's books and how to encourage young people to read appropriately for their age group & interests. Additionally, she undertook a CELTA course (Certificate in English Language Teaching to Adults) as well as modules related to Language Teaching during her undergraduate degree.

In 2008, Priyanka decided to formally train as an English teacher, qualifying with a PGCE at Oxford University. This training was geared specifically at teaching English at secondary school and concentrated on educational theory, using the most state of the art resources and intensive vocational practice. Her thesis at Oxford was based on creating effective teaching methods and resources to engage disaffected students.

Her specific areas of interest are based in literacy, reading development, student support and teacher training within these areas as well.

My posters
My favourites Priyanka hasn't favourited any poster yet.