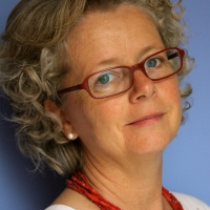 Andrea Fellner
Guadalajara Mexico
http://iteso.mx
---
About me
Austrian, born in Germany.
1980-1985 she studied Textile and Graphic Design at the Akademie der Bildenden Kunste Stuttgart, Germany.
Since 1985 she lives in Mexico, she studied a Master of Social Science at the Jesuit University of ITESO, Guadalajara, Mexico.
She realized a lot of social design projects, one of them "Interpretation of pain in children with cancer and how design can be an effective tool to provide better communication between
children in pain situations and their doctors", was exposed at the SIOP congress in Mumbai, India, 2007.
Currently she is the dean of the Department of Arquitecture and Design at the ITESO University, Guadalajara, Mexico.
My posters
My favourites Andrea hasn't favourited any poster yet.