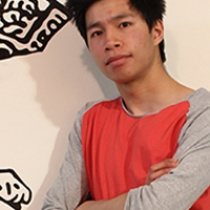 Eric Le
Melbourne Australia
http://withonee.wordpre
---
About me
Born in Australia to Vietnamese parents, I was raised in a highly religious household.
I always loved creating things and pulling them apart as a child; and still do.
Going through primary school and high school I loved my art subjects but never did have a passion for graphic design as I always saw it as more theoretical and technical; restricting creative freedom.
I did a few courses after high school, one to become an electrician and another to pursue my passion in the motorsport of drifting.
However, during both courses I always found myself doodling or creating something with the materials around me. It felt like my creativity was trying to find an outlet or escape, so I decided to jump into a Graphic Design course afterward.
To my surprise, what I thought was boring and commercial turned out to be highly creative. It also allowed me to voice my feelings and thoughts visually, which I loved.
My work was strongly influenced by Stefan Sagmeister during my first year, his tongue in cheek approach and desire to evoke emotions through graphic design was inspirational.
At the end of the day, graphic design is a job to me, a means to an end. It also allows me to express myself creatively but it is also a skill that I can use to assist others or make a statement. It is a tool that can be used to speak for those who cant or project visuals that cannot be adequately described with mere words.
It is a form of communication that I am privileged to know.