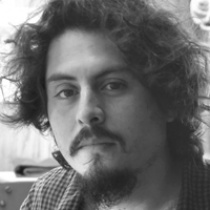 Emmanuel Tanus
Puebla Mexico
---
About me
I was born in Libres, a small town in the state of Puebla, Mexico.
Since I was a child I had the fortune to live in different towns where I learned to live with nature and the environment.

I studied graphic design at BUAP and engraving at the Museo Taller Erasto Cortes.

My work as an engraver was exhibited in different places such as The Fourth International Contemporary Graphics Exhibition, Colombia 2017, Intersection Museum Workshop Erasto Cortés, Puebla, Mexico, 1st National Miniprint Contest, "Burro Press" Oaxaca, Mexico. ACQUI Award, Italy, High Graphics, Russia, "House of the Oaxacan Culture" Oaxaca, Mexico, City Hall in North Las Vegas, Nevada. My work as a poster designer has been exhibited in different national and international competitions such as The International Poster Triennial of Toyama, Japan, The International Poster Biennial in Warsaw, The Ukrainian Eco-Poster Triennial, The International Competition of Poster "To be Human" de Denmark, the 31st Edition of FILIJ in Mexico DF, Poster for tomorrow, Paris, France, Mut Zur Wut, Germany, Poster Biennial of Ecuador, among others.

International recognitions and awards:
- Category B gold medal at the 28th International Biennial of the Mexican Cartel 2018
- "Carlos Lozano" gold medal at the 27th International Poster Biennial of Mexico 2016.
- Honorable Mention in the Ecuador Poster Biennial 2016.
- First place in the International Poster Contest "Post it awards" in Moscow, Russia 2013.
- Honorable mention at Skopje Poster Macedonia, 2012.
- Honorable Mention at the FINI "International Image Festival" Pachuca, Mexico 2016.
---
My networks
My posters
My favourites Emmanuel hasn't favourited any poster yet.