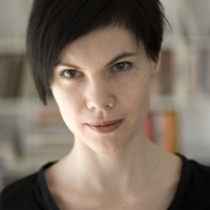 Joanna Gorska Jerzy Skakun
Warsaw Poland
---
About me
Joanna Górska graduated from the painting faculty of Fine Arts Academy in Gdansk. From 2003 she works with Jerzy Skakun. They have been working in their own graphic studio named Homework. They design posters, work on printing graphics and communication for cultural events. Their works were exhibited (among other places) in Paris, Berlin, Oslo, Mexico, Sophia and Hong Kong. They are prizewinners of several competitions. The most important of their achievements are: a silver medal from Chicago's Poster Biennial, a golden medal from Mexico's Poster Biennial, the VIDICAL competition Grand Prix for the Akobi calendar, and the Józef Mroszczak Honorary Award at XXI Poster Biennial in Warsaw.

Joanna Górska and Jerzy Skakun work with cultural institutions such as: Polish Theater in Bydgoszcz, Vivarto, Mañana and Pulaski Museum in Warka, Polish Post.



About her work, design critic Ellen Lupton wrote "[...] Although the decline of the Polish poster under capitalism has been widely mourned, Joanna Górska and Jerzy Skakun are bringing the medium back to life, and updating it for the twenty-first century. [...] Thus, while reviving the poster tradition, these designers are also wedding an art-based medium to the contemporary practice of graphic design."