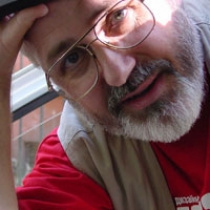 Serge Serov
Russia
---
About me
Art historian, art critic, curator, editor, expert, teacher, art director and graphic designer.

Graduated from the Moscow Institute of Telecommunications (1974) and the Academy of Fine Arts, I. Repin Institute of Painting, Sculpture and Architecture (1986).

Publications by Dr. Serge Serov include books:
Style in Graphic Design. 60s-80s (1991)
Best Symbols and Logos 1990-1995 (1995)
Moscow-Poster / Address: Moscow (1995)
Best Business Cards of Russia (1997)
Golden Bee. Posters of the 90s. From the Moscow International Biennale of Graphic Design collection (2002)
My Designers (2002)
The Harmony of Classical Typography (2003)
Typography of Visual Communication (2004)
Typography of Virtual Reality (2004)
Moscow Conceptual Posters of the 1990s (2004)
Modern Logo Graphics (2005)
Stars of Graphic Design. Yury Gulitov (2007)
Stars of Graphic Design. Dan Reisinger (2008)
Polish School of Poster (in collaboration with Krzysztof Dydo) (2008)
and about 500 articles published in Russia, Belgium, Czech Republic, China, UK, Germany, Iran, Japan, Ukraine, USA.

One of the authors and curators of the Phaidon edition "Area. 10 curators, 100 designers, 10 classics" (2004), in collaboration with Nick Bell, Anthon Beeke, Werner Jeker, Uwe Loesch, Fernando Gutiérrez, Stefan Sagmeister, Ken Cato and Shigeo Fukuda.

Editor/expert for "Advertising: Theory and Practice" (1983-1991), editor-in-chief of "Greatis" international graphic design quarterly (1992-1994), editor/consultant for "Advertiser" newspaper (1995-1996), editor-in-chief of "Design Union" magazine (1997-1998), art director of "The Truth and Life" Christian magazine (1995-2009).

Member of the Committee for State Awards for Art and Literature under the President of Russia (1996-2003).

Organized and curated more than 100 design exhibitions, competitions and events in Russia and abroad.

President of Golden Bee, the Moscow International Biennale of Graphic Design.

Head of the Higher Academic School of Graphic Design (Member of Icograda Education Network).

President of the Academy of Graphic Design (Member of Icograda).

Awards include Golden Badge of Honour for Public Recognition, Rodchenko Award, Honours Diploma of the U.N. Council for Public Awards, etc.
My posters
My favourites Serge hasn't favourited any poster yet.