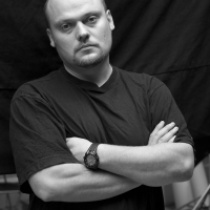 Peter Bankov
Russia
---
About me
Peter Bankov was born in 1969. He graduated from Minsk Art College and then Moscow State Polygraph Institute. In 1996 he founded his design studio "DesignDepot" (www.designdepot.ru) and [kAk) magazine (www.kak.ru/eng). Today he carries out his duties as owner and creative director of the studio and editor-in-chief of well known Russian design magazine.
Along his career Peter and his team won many professional Awards and contests.
Awards: Victoria National Award at the "Design" All-Russian exhibition-competition (1997, 1998, 2001), 1st diploma at the "Grahit" Moscow Festival (1998), Diploma of the Russian Union of Designers and Special prize of the "Design and Advertising" exhibition (1999), 2nd Award at the "Press Prize" Festival (2000), 1st Award (2003), 2nd Award (1999, 2001, 2003), 3rd Award (two times in 2002) at the Moscow International Festival Advertising, 1st Award (two times in 2004), 2nd Award (2004,2005), 3rd award (2004), Gold, Silver (2006) at the Kiev International Festival of Advertising , two Golden medals and Bronze medal (2005, 2008), Gold and Silver (2007) at the "ADCR Award" competition, 3rd Award at the Identity: Best Of The Best 2006; 3rd Awards at the Moscow International Festival Advertising Red Apple (2007, 2008), 1st Prize at ProdExpoPack 2007, 1st and 2nd Award at the XI Federal Competition of Annual Reports of RTS Stock Exchange (2008).