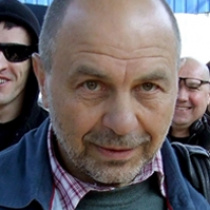 Oleg Veklenko
Ukraine
http://www.4block.org/en/association/participants/id6
---
About me
Was born on August 17th, 1950, in Russia. Graduated from Kharkiv Art-Industrial Institute, 1967-1972 (now is Kharkiv State Academy of Design and Arts). In 1972 was invited to stay with the Institute as a teacher. Professor (1993), Head of Graphic Design department (2000-2004), Honorary Artist of the Ukraine (1986), President of 4th Block International Eco Poster and Graphic Triennial (Kharkiv, Ukraine).
Apart from teaching, works in the area of graphic design and drowing.
He has participated in a number of national and international exhibitions in Russia, Poland, Finland, Slovakia, Canada, Great Britain, Denmark and USA. His works have received awards and diplomas.
Lives and works in Kharkiv, Ukraine.
---
My networks
My posters
My favourites Oleg hasn't favourited any poster yet.