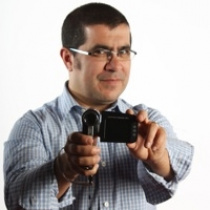 Hugo Burgos
Ecuador
---
About me
Born in Quito, Ecuador, but raised as a Midwestern U.S. kid.
Truly believes in interdisciplinary work, as proof his academic record: holds an Engineering degree in Electronics and Control Systems, an MA in Television-Radio-Film Production, and a Ph.D. in Media Studies. Currently is studying a professional certificate in music production and technology.
Has taught university level courses for the last fifteen years and enjoys it very much. His areas of expertise are critical social theory, experimental sound and film, globalization and gender studies. Truly believes that the academic world is the place where theory, practice and experimentation meet. Also, for the last fifteen years has produced work as an intermedia artist. Since 2004 has been the dean of the College of Communication and Contemporary Arts at Universidad San Francisco de Quito, a private liberal arts university in Ecuador.
My posters
My favourites Hugo hasn't favourited any poster yet.