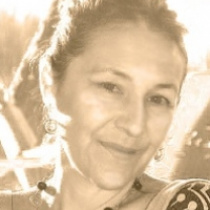 Ann Mary Gollifer
Gaborone Botswana
http://www.anngollifer.com
---
About me
Ann Gollifer is a renowned painter and printmaker and is represented by Everard Read Gallery in Johannesburg and Bicha Gallery in London.

A new exhibition opened this month "living on an horizon; a tribute to Bessie Head" at the Everard Read Gallery in Johannesburg.

She is currently producing a biography of the painter Dada Coexae Qgam, a Naro painter from the Kuru Art Project.

Ann was born in British Guiana and is a permanent resident of Botswana.

She graduated from Edinburgh University with a Masters degree in History of Art.