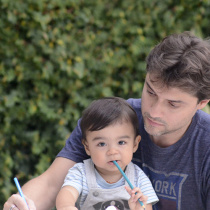 Ricardo Garla
São Paulo Brazil
---
About me
Graduated in Graphic Design at Faculdade de Belas Artes de São Paulo, Ricardo Garla is the Creative Director at Promo Brazil/Otto Design Agency in São Paulo.
For over twenty years he has developed projects for Kelloggs, Nestlé, Danone, Parmalat, Procter & Gamble, Pepsi, Budweiser, Stella Artois and Sony Pictures.
His work has been selected for exhibitions in Brazil and abroad, including "Poster for Tomorrow" projects:
Right to Education - 2011
A Home for Everyone - 2013
Work Right - 2014
Make Extremism History - 2016
In 2017, his poster "Walk" for Poster for Tomorrow's "Freedom of Movement" project joined the Top Ten and became part of prestigious graphic design collections in numerous design museums worldwide.
In the same year, he was invited to be Poster for Tomorrow's online jury.
My posters
My favourites Ricardo hasn't favourited any poster yet.