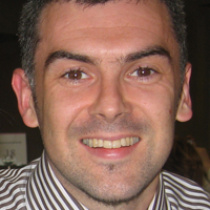 Justin Magee
Derry City United Kingdom
http://http:www.justinmagee.com
---
About me
Justin studied at Ulster and Coventry Universities in Product and then Transport design and recently gained his PhD in "3D digital modelling of spinal posture".

He has worked as a product designer in Ireland, England, America, Denmark and Germany for large companies like Smart Car, Randox, LEGO Systems and SMEs such as HugX and EASA. He has worked on over 70 commercial projects to date and is a design consultant for various procurement programmes in Ireland and is a member of the Institute of Designers in Ireland and the Trauma and Rehabilitation Recognised Research Group.

He is presently the Course Director for the BDes Design and Communication programme at Ulster and the Coordinator for Academic Enterprise for the Faculty of Arts. In 2007 he was awarded the University Distinguished Business Fellowship in respect of his professional engagement.
My posters
My favourites Justin hasn't favourited any poster yet.