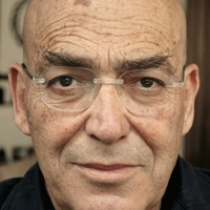 David Tartakover
Israel
---
About me
Since 1975, David Tartakover has operated his own studio in Tel-Aviv, specializing in culture and politics.
Tartakover is known for his self-produced posters dealing with the Israeli-Palestinian conflict.

His work has won numerous prizes in Israel and abroad, among them are: Gold medal, 8th Lathi Poster Biennial, Finland (1989) and Grand Prix, Moscow International Poster Biennial (2004).

He collects and researches history of Israeli design and is also the curator of design exhibitions in Israel and abroad.
Among the books, he has published, is a lexicon of the 1950's in Israel, "Where We Were,And What We Did".
For his contribution to Israeli design and culture, he was awarded the Israel Prize (2002).
David Tartakover is member of AGI.