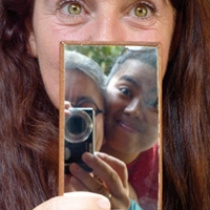 Sabina Oberholzer
Locarno Switzerland
---
About me
She lives in Cevio, Vallemaggia.

From 1973 to 1978 she studies graphic design at the CSIA in Lugano under prof. Bruno Monguzzi.

1980 sojourn in London.

From 1980 to 1983 she works as a graphic designer in Zurich at the studio Baltis und Ruegg.

During this period, she also sojourns in New York , where she works for the studio Rudolph de Harak and associates.

In 1983, together with Renato Tagli she founds the studio for graphic projectation Oberholzer Tagli in Cevio.

Member of AGI since 1997.

In 1988 and 1990, she wins with Renato Tagli the 1st prize of the Federal Stipend for applied arts.

Since 1999 she is responsible, with Renato Tagli, for the coordinated image of the Museo comunale d'arte moderna in Ascona.

In 2002, she win with Renato Tagli the third price for International Poster Competition at the Deutschen Plakat Museum, Essen.

In 2005, she is invited to participate in the Swiss National Bank's competition for new banknotes.

In 2009, she win with Renato Tagli the first price for the 5th Annual International Typography Poster

as Asma-ul Husna, Tehran, Iran in Tehran, Iran.

In 2009, she wins with Renato Tagli the first prize in the competition for a series of postage stamps for the Swiss Post.
My posters
My favourites Sabina hasn't favourited any poster yet.