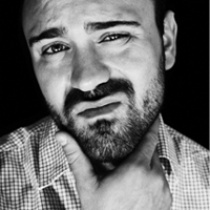 Andrea Castelletti
Milan Italy
http://www.daltraparte.com/
---
About me
Born in 1985, he is considered among one of the most promising young creatives in Italy, in 2007 Andrea Castelletti graudated as Art Director at the IED (European Institute of Design) in Milan. In the same year he won a contest powered by PEPSICO in collaboration with the IED, for realising the graphic project "Pepsi twist", which has been produced on 10 million bottles and cans.

He started working in the advertising world developing projects for important brands such as Fiat, Vodafone, Zurich, Citroën and Lavazza.

In 2009 he received two significant recognitions from the contest Good 50x70, by realising a poster about the HIV, and from the contest Poster for Tomorrow creating an artwork inspired by the tragical facts that happened in Iran during the presidential elections.

His works has been exhibited in Italy (Milan, Triennale Design Museum), France (Paris, Les Arts décoratifs - Palais du Louvre; Strasburg, Agora Building - Council of Europe), Sweden, United States, Israel, Turkey, Germany, Morocco, Canada, Ecuador, Spain, Georgia, South Korea, Poland, Bolivia, Perù, Serbia, Lebanon and Austria. Moreover, his works were published in Italy, Netherlands, Iran, India, France, Ecuador and Peru.

Since 2008 he is member of the Art Directors Club of New York.
At the moment, Andrea Castelletti collaborates as an Art Director for the advertising agency TW2 (Milan and New York). He's supporting Alberto Baccari in creative projects, in realizing communication strategies and developing brand identities for international brands.