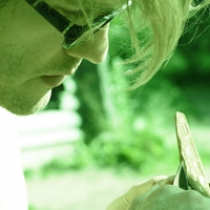 Timo Berry
Helsinki Finland
http://www.berrycreative.fi
---
About me
Timo Berry was born in Turku, Finland, in 1973. He holds a masters degree with honors from the University of Art and Design in Helsinki.

Berry works with graphic design, stamps, corporate identities, magazines and posters via the BOTH Creative Design Agency, which he founded together with graphic designer Teemu Ollikainen.

Berrys posters have been awarded numerous international prizes among which are the Lahti poster biennial Grand Prix, gold medals from Mexico, Mons, Bolivia, Graphis, and several national competitions.

His posters are in numerous international collections, including the Paris and Wien museums of industrial art. He is also in the Heibonsha Dictionary
of Today's Design (Japani) and has been curated to the The
Graphic Imperative: International Posters of Peace, Social Justice
and Environment 1965–2005 -exhibition in the USA, the Masterpieces-exhibition in Slovakia, and the All Gold of The World -exhibition in Moscow.

In addition to graphic design Berry likes to work on the field of environmental art.

My posters
My favourites Timo hasn't favourited any poster yet.