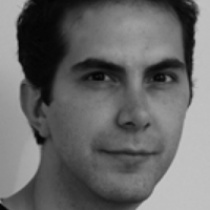 David Criado
Madrid Spain
www.davidcriado.es
---
About me
He studied Graphic Arts Production in Spain where he specialized in Graphic Design.

He has participated in several exhibitions in different countries around the world, Mexico, Ecuador, Peru, Argentina, Slovenia, Ukraine, France, Italy, Iran, EEUU, Spain, Portugal, Chile, Brazil, Venezuela and Bolivia, winning several national and international awards.

Actually he is Chairman of the Catalográfica Group, promoter group of graphic design in Bolivia, being editor of the book Catalográfica, Director of the Third International Poster Biennal in Bolivia, coordinator of "Tipos Latinos Bolivia", professor of graphic design at Universidad Católica Boliviana "San Pablo".

His works have been published in magazines and books around the world.
My posters
My favourites David hasn't favourited any poster yet.