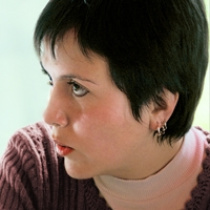 Marina Córdova
La Paz Bolivia
---
About me
Bolivian freelance graphic designer, more than ten years of professional experience in advertising agencies, graphic design studios and in Information and Communication Technology companies. Graphic Design teacher at Universidad Católica Boliviana "San Pablo".

She is fond of illustration, literature and crafts. Her posters have been exhibited in Les Arts Decoratifs, Palais du Louvre (Paris), Galeria del Anexo of… read more Espacio Simón I. Patiño (La Paz), Saba Cultural & Artistic Institute (Tehran), Centro Cultural Ricardo Palma (Lima), Espacio Simón I. Patiño. (La Paz, Cochabamba and Santa Cruz), Galería de Arte y Cultura "Salar" (La Paz), Salón de Honor del Teatro Municipal "Alberto Saavedra Pérez" (La Paz), Centro Cultural Brasil-Bolivia (La Paz).

She has been a juror in the First Vibre Festival (Iran), Design vs. Poverty contest (Italy), in Green+You (Korea), in Walls Down (Peru), online juror in Poster for Tomorrow 2010, 2011 and 2014 (France), pre selection juror in the "First International Reggae Poster Contest", juror in "Seeds of Peace" (Italy).
---
My networks
My posters
My favourites Marina hasn't favourited any poster yet.