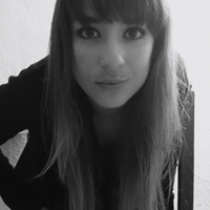 Naandeyé García Villegas
Mexico
http://naandeyeah.com
---
About me
She is a graphic designer who currently lives and works in Mexico City. She has a major in Design and Visual Communication at the Faculty of Arts and Design of UNAM, and a postgraduate in visual arts and multimedia at the Polytechnic University of Valencia, Spain.

She worked at Unanime Creative Agency, working in projects of high-end clients from Russia and Spain.

In 2013, she returned to Mexico and founded Anlab, a visual laboratory dedicated to articulate analogue and digital methods for editorial and graphic design, web development and other experiments. She is also dedicated to teaching, at the undergraduate level, teaching courses in design theory and web development, at CESM and at SAE Institute México.

She received the San Diego Latino Film Festival Poster Design 2017, GraphicsMatters 2017, Golden Prix prize of the Virtual Biennale Prague 2016, silver award "Award to! Design 2014" by "Brand Corporate", bronze award of Quorum (Council of Designers of Mexico) in the category Multimedia, 2006, among others.

She has won several honorary mentions and finalist mentions in some competitions in Mexico and abroad: International Triennial of Eco-poster The 4th Block, Poster Heroes 2018, Taiwan International Graphic Design Award, PosterForTomorrow, Shanghai Biennial of Asia Graphic Design 2017, International Poster Biennale for Peace Nanjing, International Poster Biennale Lublin 2017, 9a Bienal Nacional de Diseño 2017, Co2 poster biennial, Poster on politics 2017, Graphic Matters 2017, Fl3tch3rexhibit, Autopsia colectiva, #MadridGráfica17, TAG CDMX, Mentes Maestras, Graphic Stories Cyprus, UNAM, MUMEDI, 8th Jeju, Korea United Designs, Virtual Biennale Prague 2016, Flamantes, PosterPoster, among others.

Her work as a designer has been published both in digital media and in international publishing collections.

At the same time, some of her posters have been exhibited in different countries such as Mexico, Italy, Shangai, Taiwan, Poland, Cyprus, Spain, Czechoslovakia, Finland, Cyprus, Dubai, United States and Netherlands.

She is currently an art director at the Weird Fishes Agency.

---
My networks
My posters
My favourites Naandeyé hasn't favourited any poster yet.