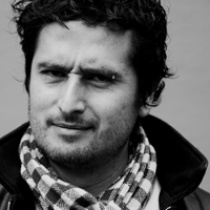 Jorge Restrepo
bogota Colombia
---
About me
Graphic designer graduated with honors from Universidad Nacional de Colombia (2001), Adobe Certified Expert, teacher of typography in Universidad de Los Andes and Creative Director of own studio. In the past, he worked to different clients like General Motors Colombia, Revista Cambio, Revista i.n.k. as Art Director among others.

He created Wonksite Studio at the end of 2002 and with this way has reached many projects like books as co-author of Masters of Photoshop 2, and participated in Atlas of Graphic Designers (Mao Mao), Latin American Graphic Design (Taschen), Anniversary book (Dolce & Gabbana), 15th Anniversary Book (IdN), 1000 type treatments (Rockport) among others. In addiition worked to Computer Arts magazine (U.K.), RAD (Red Académica de Diseño, Colombia), Hoja por Hoja magazine (Mexico), P576 (Colombia), Blank magazine (Chile), etc.

Jorge was curator to Colombia's Passion Exhibition at Hong Kong (NewWebPick) and speaker in PechaKucha Vol 3. Bogotá, also in different universities in Colombia, Pixel Show (Brazil), Dejando Huella (Mexico).
My posters
My favourites Jorge hasn't favourited any poster yet.