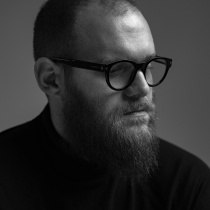 Ioannis Fetanis
Greece
http://fetanisioannis.com
---
About me
Ioannis Fetanis, was born in Athens in 1983. He studied Graphic Design at Athenian Artistic and Technological Group where in 2004 he graduated with Bachelor of Arts (honours) degree. He completed his studies in 2007 obtaining a Master of Arts in Design (Strategic Design & Visual Communication) from Middlesex University, London.

Since 2004, he has been working both in advertising agencies-studios and also as a freelancer. At the same time he enjoys being active in groups with social field of interest and action such as Creative Action Network (USA), TEDx, 57th TIFF, as also taking part in political communication projects. His endless creativity, guides him frequently to participate in exhibitions and biennale of Graphic Design all over the world.

Awards
Young Lions Competition Hellas, EBGE (Greek Graphic Design & Illustration Awards - 57th TIFF / Best of Show), European Design Awards, Good 50x70, Political Poster Show of Mons Trienalle, Poster For Tomorrow (Paris Design Week) and Golden Bee (Moscow Global Biennale of Graphic Design), for social posters and logotypes.

---
My networks
My posters
My favourites Ioannis hasn't favourited any poster yet.