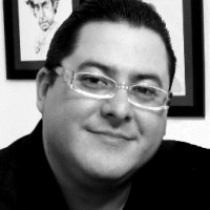 Elmer Sosa
Puebla Mexico
http://www.elmersosa.com
---
About me
Biography: He is Graphic Designer with Specialization in Poster Design, graduated from the Institute of Advanced Studies in Architecture and Design A C. with honors and recommendations from the faculty in support of his professional thesis, awarded by the University of Las Villas, Santa Clara, Cuba.
His graphic work includes posters, images of identity and the majority of his work is political cartoon and illustration.

Their posters has been selected at:
- First Place and Excellence Award in "Creacartel 2011", Venezuela.
- First Place "Walls Down" Faber-Castell Category, Peru 2011.
- Winner "Mut Zur Wut 2011 and 2012" Heidelberg, Germany.
- 23rd International Poster Biennale in Warsaw, Poland, 2012 .
- International poster contest "To Be Human", Aarhus (DK) 2012
- Good 50x70 2011 Italy.
- Green+You 2010 International Poster Design Exhibition, Seoul, Korea
- 11 International Poster Biennial of Mexico, 2010.
- Golden Bee 9, Moscow International Biennale of Graphic Design 2010.
- 6th, 7th Annual International Typography Poster as Asma-ul Husna, Tehran 2010.
- Where Is My Vote? Posters for the Green Movement in Iran, Exhibition
at the School of Visual Arts, New York. September 2010.
- 4. International Poster Exhibition - YAKU, Lima, Peru, 2010.
- Oil catastrophe poster competition 2010.
- 11th International Triennial of the Political Poster Show, Mons, Belgium 2010.
- 24th International Biennial of Graphic Design Brno 2010.
- A la muerte con una sonrisa 2009, Mexico.
- Vibre Poster Festival, Tehran, 2009.
- 3. International Biennial of Poster Bolivia - BICeBe 2009.
- Poster Triennial 2009 in Trnava, Slovakia.
- 3. International Biennial of Posters of the Islamic World, Tehran, 2009.
- 9th International Poster Triennial 2009 in Toyama, Japan.
- 17th, 18 th International Poster Biennial in Lahti, Finland 2009.
- 20. International Poster Festival of Graphic Design Chaumont, France, 2009.
- "4 Block" The 7th and 8th International Triennale of Eco Posters Kharkov, Ukraine.
- II Bienal Iberoamericana de Cartel in Bolivia 2005.


Their cartoons has been selected at:
-IV Salon Internacional del Humor Grafico, Lima, Peru, 2011
- Finalist Premio On-line "Tomy" en la XVII Bienal del Humor Gráfico Cuba 2011.
- 2nd International Fajr Cartoon & Caricature Contest, Iran, 2010.
- (Grand Prix) First Great Cartoon Contest 2010 from newspaper "The People", Puebla, Mexico.
- The 3rd International City Complexities Cartoon Contest 2010, Iran.
- "Think Green" Eco cartoon Exhibition, India 2010.
- 7 Sins Illustration Contest, España, 2010.
- The Second International Digital Media Cartoon Contest 2010, Iran.
- The First International Humor Festival BOSTOONS 2010.
- Water exhibition in AYACC (Asian Youth Animation & Comics Contest 2010)
- The First Water International Cartoon Contest 2010, Iran.

Jury in:
Escucha mi voz poster contest 2011, México.
Reggae Poster Contest 2012, Grecia.
Green + You, Hong Kong.


Now published in the newspaper "Cambio" in Puebla, Mexico and illustrations for the magazines "Contralinea", "Tierra Adentro", "Algarabia", "360º ","Seres"," Sedicion", "Traspatio ", and the publishers "Televisa" y "Otras Inquisiciones" . Is Coordinator of the career of Graphic Design in the Institute of Advanced Studies in Architecture and Design A C., Art Director of the Yomi Yomi Studio and founded the SuperVolta (Graphic incubator).
My posters
My favourites Elmer hasn't favourited any poster yet.