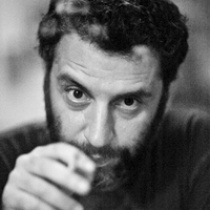 Igor Gurovich
Russia
http://arbeitskollektiv.ru/
---
About me
Born in 1967 in Riga (Latvia).
Graduated from Moscow Higher Industrial Art School (former Stroganov School) in 1990 with a major in ART design.
In 2002 he established OSTENGRUPPE together with partners Anna Naumova and Eric Belooussov.
In 2012 Igor Gurovich together with Eric Belousov, Natasha Agapova established ARBEITKOLLEKTIV

Igor is a member of Russian Academy of Graphic Art since June 2007.
His recent personal exhibitions include Echerolles, 2004 (France), Dusseldorf, 2005 (Germany), Montreal, 2006 (Canada), San Paolo, 2010 (Brazil). He is frequently invited to lecture on the group and personal work and participates in workshops at home and internationally together with OSTENGRUPPE designers' team.

Grand Prix
• 1994 - Grand Prix at the Moscow International Advertising Festival
• 2000 - Grand Prix at the All-Russian exhibition-competition "Design"
• 2012 - Grand Prix at the Moscow International Biennale of Graphic Design "Golden Bee 10"
• 2012 promotional award in Colorado
• 2013 agi prize in Chaumont
2013 member of agi

His works has been selected and published in books such as Moscow Conceptual Posters, Moscow Style Edition, Anatomy of Design-Rockport's Edition, All Men are Brothers-Designer's Edition, Atlas of Graphic Design by Maomao Publications. Pyramid Editions issued a book about OSTENGRUPPE within their Design&Designer pocket book series, "The best graphic designers of the world" by MAOMAO Publication.




---
My networks