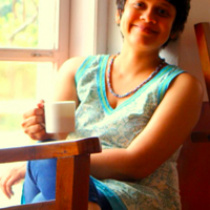 Kavita Arvind
India
www.chidiyaudd.in & https://www.facebook.com/chidiyaudegi
---
About me
Kavita Arvind's practice dwells in the fuzzy margins of art and design. Through her work with art, fabric and illustration, she hopes to give voice to women who lead lives of subjugation, crippled by gender and caste; aliens in their own homes and land.
She is a design educator and an artist. Her work ranges from art and learning design in childrens' literature, to gender and social communication.

My posters
My favourites Kavita hasn't favourited any poster yet.