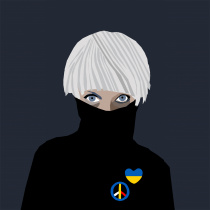 MONIKA PRUS
WARSAW Poland
https://www.behance.net/monikaprus
---
About me
Despite that I finished Interior Design on Academy of Fine Arts in Warsaw I work as a graphic designer in TVN24 tv station, usually designing storyboards and logos for new programmes.
As far as I'm concerned design was one of the main parts of my life. Ican't live without it:). For me - it's a great source of energy and motivation. And maybe that's the reason why I'm still searching, still trying new things.
I have to move and explore; there're so many aspects of design ... so there is no sence to stay in one place wasting time for waiting.
I was working as a painter : making murals, paiting t-shirts, hats and shoes, was working as a cartoonist - drawing storyboards and designing elements of animation, was workng as an interior designer - working for MTV channel, finally I was working as a graphic designer - preparing graphic design for an international film festival - ENH'07 in Wroclaw. In these days I spend a great part of my time on poster designing. It's an amazing part of graphic design. I'm still learning trying to do my best.
---
My networks
My posters
My favourites MONIKA hasn't favourited any poster yet.