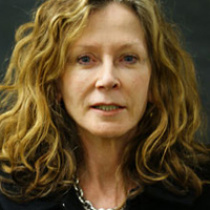 Cheryl Heller
United States
---
About me
Cheryl Heller is an American designer and brand strategist. She has developed brands and launched products for Fortune 100 and start-up companies spanning many fields. Her experience includes the development of national broadcast and print campaigns, identity programs, web-based programs, employee communications and training, direct mail, film, events and cause-related marketing.

She earned a Bachelor's Degree in Fine Arts at Ohio Wesleyan University, and later studied at The School of the Museum of Fine Arts in Boston.

In the 1980s, Heller ran a design agency in Boston called HellerBreene. She became Executive Creative Director at Wells Rich Greene, in New York City, in 1990. From 1994 until 2000, Heller was the Executive Creative Director and Managing Partner at Siegel and Gale.
In 2000, Heller founded Heller Communication Design, a firm that partners with companies to develop their brands.
She currently teaches at the School of Visual Arts in New York City. She received an AIGA medal in 2014.

She has been a strategy consultant for a number of large non-profit organizations, including the World Wide Fund for Nature, Audubon New York, IDE (an international organization dedicated to poverty elimination), The Cloud Institute for Sustainability Education, SafeHorizon, and the Joyful Heart Foundation.
She is an advisor to Design for the Other 90%, an NGO led by Paul Polak, and helped to create a related exhibit at the Cooper Hewitt National Design Museum. She is also an advisor to the National Academies of Science, and a Senior Faculty Fellow at the Boston College Center for Corporate Citizenship.

In 2008, Heller launched "Good Brand Camp", a one-day workshop for nonprofit organizations and social entrepreneurs to help them accomplish their missions by developing powerful brand strategies and communication systems.
"The growing number of mission-driven organizations has brought with it a more intense level of competition for support and attention", Heller said. "Over the years, we've worked mostly with for-profit companies, helping them strengthen their messages and methods of delivery. We felt it was time to share this experience with as many nonprofit organizations as possible by developing this 'almost free' workshop."
She is currently on the board of Pop!Tech, an annual conference that explores how technology accelerates social and environmental change, and The Cloud Institute for Sustainability Education.
My posters
My favourites Cheryl hasn't favourited any poster yet.