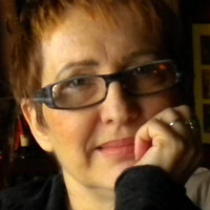 Mila Melank
Sarajevo Bosnia & Herzegovina
---
About me
MA Graphic Designer
Sarajevo, Bosnia and Herzegovina
Secretary general at Applied Artists and Designers Association of B&H
Graduate 1985 Graphic design at Academy of Fine Art Sarajevo, MA degree in graphic design
Work as: free lance graphic designer; graphic editor and journalist in "Kikindske" newspaper; director of Public Enterprise "Information Centre Kikinda"; Own company Miomirka Melank in Prague, Czech Republic; graphicdDesigner at Marketing Agency OSSA, Oslobođenje, Sarajevo; associate at Design Institute, Academy of Fine Art, Sarajevo.
I had many exhibitions and few honours and awards during 28 years long career as graphic design.
Member of NUNS Independent Journalist Association of Serbia, Member of UPIDIV - Applied Artists and Designers Association of Vojvodina, Member of ULUPUBIH - Applied Artists and Designer Association of BiH.
---
My networks
My posters
My favourites Mila hasn't favourited any poster yet.