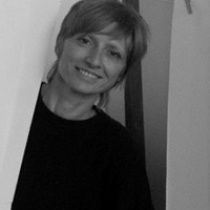 Teresa Sdralevich
Belgium
http://www.teresasdralevich.net
---
About me
Teresa Sdralevich is graphic designer, illustrator and silk-screen printer; she was born in Italy in 1969 and has been living in Brussels for many years.
In her work Sdralevich addresses social, political and cultural topics; her favourite medium is (still) the poster, be it printed on her own and flyposted in town, or produced and distributed on a large scale.

Sdralevich has taken part to many international poster events and has exhibited her work on several occasions, in Italy and abroad. In the last few years she has taken to leading workshops with students and children; she focuses on low-fi political posters or on any other medium that may help creativity spring within the frame of a designer's experience.

Her last book is a compilation of drawings, Nononsense. Front line drawings, published in Spain with a foreword by James Victore.