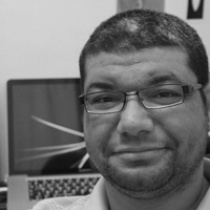 Rafiq Elmansy
Cairo Egypt
http://www.rafiqelmansy.com
---
About me
Rafiq Elmansy is a design lecturer at the American University in Cairo, as well as a worldwide author and design manager. My experience includes more than 15 years in the design industry, working with clients from the United States, Canada, the United Kingdom, the Middle East, and Australia.

His design artwork is exhibited in many locations including Croatia, South Africa, and Spain. He is also a jury member and mentor in acknowledged design competitions including the Adobe Design Achievement Awards and Poster for Tomorrow.

Rafiq is also a published author for O'Reilly, John Wiley and Taylor and Francis. My books are available on Amazon on the following links:
How to Create a 3D Spaceship Scene in Photoshop
Creating 3D Animation in Photoshop CS6
Building a 3D Scene in Photoshop CS6

And his articles are published in many blogs and design related sites such as:
http://www.smashingmagazine.com/author/rafiq-elmansy/
http://www.graphicdesign.com/author/rafiq-elmansy/
http://www.rafiqelmansy.com/books-and-articles/

Rafiq is an Adobe Certified Instructor, community professional, and user group manager for the first Adobe user group in Egypt and the Middle East, AUGE. For more than seven years, and provide frequent support to the Adobe community around the world through events and online sessions in various Adobe applications. Elmansy is pursuing a Master of Arts degree in design management from Staffordshire University in the U.K., with a focus on strategic design.
---
My networks
My posters
My favourites Rafiq hasn't favourited any poster yet.