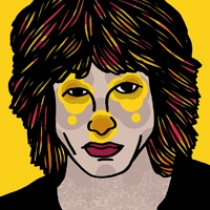 Arnaud Pagès
Montreuil France
http://arnaudpages.wix.com/arnaud
---
About me
As a pop-art and free figuration kid, also under the influence of street-art, ive exhibited my work in various art galeries around the world, and ive made a lot of collaborations with brands.


With thick lines and flashy colors, my work give a new interpretation of pop-art basics and modern style defacements.


Im operarting in three different fields, graphic design, illustration and painting. Im also doing pattern design.
My posters
My favourites Arnaud hasn't favourited any poster yet.