Freedom of expression
THE PENCIL IS MIGHTIER
The first poster for tomorrow project was an open competition to create posters to draw attention to, and take action against, the repression of freedom of expression.
Freedom of expression is a right that the Western world takes for granted. But in many countries, such as Iran, innocent people are persecuted and imprisoned daily due to their pleas for democracy and freedom of the press or for exposing human rights abuses.
We hoped to spark a movement that could inspire people worldwide to stand together against injustice and intolerance by using the graphic design medium. One poster is a start. Hundreds, thousands will become a global movement for a better tomorrow.
FROM 03.09 TO 15.11.09
We invited the global creative community to send in posters to our website from September 3, 2009. Our call for entries closed on November 15, 2009.
1834 POSTERS FOR 67 COUNTRIES
We received 1834 posters from 67 countries around the world.
Soon they're all going to be available through this website, in the meantime you can check out five of the best posters from last year on your right hand side.
9 DESIGNERS FOR 100 BEST POSTERS
Our jury, that included Marjane Satrapi, the author and filmmaker of Persepolis; and internationally renowned graphic designers like Woody Pirtle and Alain Le Quernec selected the best 100 entries collected in an exhibition and in a catalogue. The catalogue included comments from some important personalities in the field of human rights: Roberto Saviano, journalist and author of "Gomorra"; Jean-François Julliard, Secretary General of Reporters Sans Frontières; Yoani Sanchez, cuban blogger; Zara Tofigh, representative for Network Iran Human Rights in Italy; Françoise Schein, founder of Inscrire and many others.
10 POSTERS IN PERMANENT COLLECTIONS
Ten of the posters are now part of the permanent collection of the Les Arts Décoratifs in Paris. Five of them are part of the permanent collection of the Lahti Poster Museum in Finland.
WORLDWIDE OPENING ON 10.12.09
The exhibition has been shown worldwide in a series do 24 events all opening on December 10, 2009 to celebrate the 61st anniversary of the Universal Declaration of Human Rights.
You can see some pictures from the events on our flickr page.
4 ENDORSEMENTS
The projects is endorsed by charities Reporters Sans Frontiéres and the Italian chapter of Amnesty International. We've been granted the endorsments of two interrnational organizations, the Council of Europe and the French Commission for UNESCO.
---
Ongoing Projects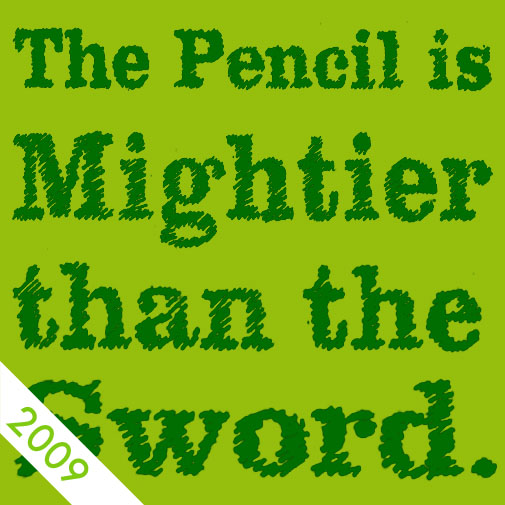 Freedom of expression
Our first competition, dating back to 2009. We took inspiration from the "Green Wave" movement that sparked protests in Iran and all over the world at that time. Our hope was (and still is) to use posters to inspire people worldwide to stand together against injustice and intolerance.