Draw me Democracy
"Draw Me Democracy" is Poster for tomorrow's new project and it's also one of the few global projects that the UNDEF, the United Nation Democracy Fund, has ever financed.
The aim of DMD is to help young artists, designers and communication professionals in taking an active role in all democratic and/or human rights-related processes and it wishes of doing so by helping them in finding their own strong creative voice. In this context, the empowerment of women is at the core of DMD priorities.
With these goals in mind, DMD is a series of 16 free of charge, one-week poster design workshops across 15 key countries scattered around Africa, Asia, Eastern Europe and Latin America.
The workshops aim to strengthen the participants knowledge and skills in the fields of design, social communication and advocacy advertising.
The experience will come full circle after 6 months follow up, when few more workshops will take place in some of the 15 countries or even in some new ones in order to make more designers benefit this initiative.
---
Ongoing Projects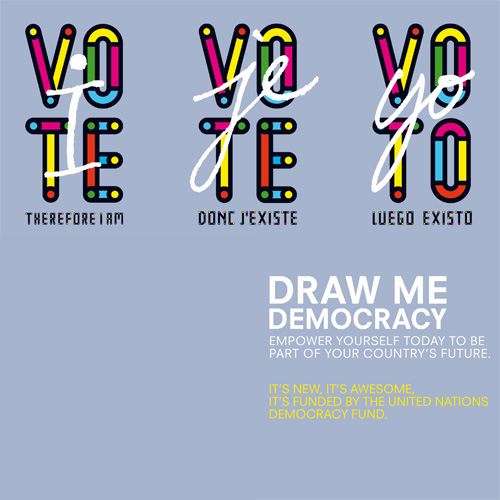 Draw me Democracy
A challenging new project developed by 4 Tomorrow and financed by UNDEF.
It will span over two years and involve a number of countries around the world, from Latin America to Africa, Eastern Europe to Asia.
"Draw me democracy" is one of the very few global projects that the UNDEF has ever financed.