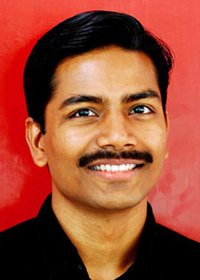 Udaya Kumar Dharmalingam
India
My website
About me
Dr. D. Udaya Kumar is an Assistant Professor at Indian Institute of Technology Guwahati, India. He teaches Typography, Graphic Design and Visual Design at Department of Design. Apart from his teaching, he is also involved in various research and consultancy projects. He is well known for his design of the Indian Rupee Symbol.

Dr. Udaya has a PhD and Master's degree in Design (Visual Communication) from Industrial Design Centre, IIT Bombay. He is a registered architect with a Bachelor's degree in Architecture from School of Architecture and Planning, Anna University. He had worked as a design head of a monthly magazine – Intelligent Computing CHIP for renowned publishing house in Mumbai. His areas of interest include Visual Communication, Graphic Design, Typography, Type Design, Architecture and Design research.

Work
Dr. D. Udaya Kumar has done extensive work in print medium. His body of work includes wide variety of projects such as branding, identity design, magazines, posters, brochures, books, covers, illustrations, information graphics, banners, etc. He brings with him two years of experience in a renowned publishing house in India.
Education
B. Arch (Bachelor of Architecture)
M. Des (Master of Design, Visual Communication)
PhD in Design (Visual Communication)
My favourites
Udaya Kumar hasn't favourited any poster yet.