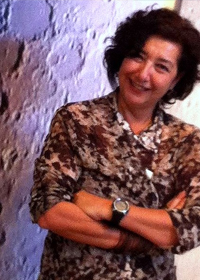 Mari Pini
São Paulo, Brazil
My networks
My website
About me
Mari Pini is a graphic designer from Sao Paulo, Brazil She owns a trademarked line of graphic pieces, edited annually since 1977, that has received awards of excellence in graphic design, highlighted for their outstanding technical level of production, originality, and aesthetics. In 1984, she dedicated herself to the management of her own design studio, producing projects around visual identity, communication, and editorial design for books, art catalogs, and institutions. Within the cultural realm, she develops the design and conceptualization for expositions and events, such as one focused on Rembrandt prints. In recent years, she has worked on projects for the Ministry of Culture, the Cultural Center of the Banco do Brasil, and the Museum of Science of the São Paulo State Government.

Work
Coordinator of the Technology in Graphic Design course at IED—the Instituto Europeo Di Design – São Paulo, where she is also a professor of Planning, and the History of Graphic Design.

Education
Mari Pini holds a bachelor of Arts in Art Education and a masters degree in Architecture and Urbanism through the São Paulo University.
My favourites
Mari hasn't favourited any poster yet.