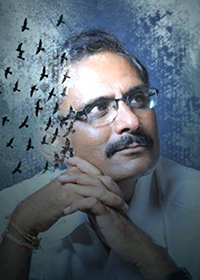 Anil Gajjar
Ahmedabad, India
My networks
My website
About me
Graphic Designer

Working in the field of social development. I believe in simple and timeless design which gives a strong message for balance of our society. My design is the depth of its creativity is for a better world.
Work
1987 Prize Winner - All India Poster Competition on Drug Abuse from SPYM - Society for the Promotion of Youth and Masses, New Delhi
1989 Five posters design on Guinea worms for SWACH-Rajasthan, collaboration with NID.
1989 to 2008 Designed of CHETNA NEWS, CHETNA Ahmedabad.
1991 Designed Anaemia Kit for Government of India, New Delhi
1991 to 2004 Designed of 8 march international women's day poster CHETNA, Ahmedabad
1992 Designed of Jal sambhal book for G.J.S.T. Government of Gujarat.
1993 Designed of Water & Sanitation kit for PSU - Lucknow
1995 Designed of ARF Calendar for Government of Rajasthan
1999 Designed & field testing of Counseling Cards (Bal Swasthya Salah Pustika) for UNICEF, Rajasthan.
1999 Designed of Women's Health Kit, Ministry of Health and Family Welfare, New Delhi
2002 Prize Winner- Anti-Tobaco Poster Competition from Dental Health Foundation at Ahmedabad.
2003 Designed of Violence against Women Kit for NCW, UNFPA and CHETNA
2004 Designed of Our Health in Our Hand book- Government of India
2008 Designed of Neo Literate kit (Simple Ways to keep us Healthy) for UNESCO.
2013 Designed of Mamta taruni IEC Materials for Adolescents and Young People in the State of Gujarat.
2014 Designed of IEC Materials for Malnutrition Treatment Centre at Dungarpur, Rajasthan.
Education
Applied art (1988) in Sheth C.N. Fine Art College, Ahmadabad.