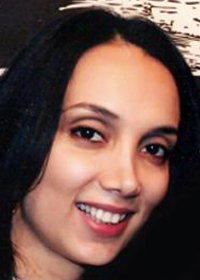 Gökçe Keçeci şekeroğlu
Nicosia, Cyprus
About me
She was born in 1978. After the graduation from Türk Maarif Kolleji she started her art education in Hacettepe University, Department of Graphic in 1996. Afterward, Keçeci completed master of art studies with the title of "TV Graphics" and "Generics and Animation Documentaries" at the same department. During her PhD studies she started to work as an assistant lecturer in the same department. Subsequently in 2006, she finished PhD studies which was about 'Animation in Documentaries' and then turned back to Cyprus. In the same year she took place at the founding team of Faculty of Fine Art and Design and started to work as assistant professor full time lecturer at Near East University. From 2006 to 2010, she was assigned as a head of the department of Graphic Design and Associate Dean of Faculty of Fine Arts and Design. In 2010, she became head of the department of Visual Communication & Design and now she is still in charge of same duty. Şekeroğlu has participate so many varieties of national and international prestigious exhibitions. Beside these, in 2008, she has opened her first solo exhibition, with the title of 'Siz' in Nicosia. Yet, Şekeroğlu has articles about her academic provinces.
Work
Assoc. Prof.
Near East University
Faculty of Communication
Vice Dean
Education
Phd from Hacettepe University, Faculty of Fine Arts, Graphic Department
Assoc. Prof. at Near East University
My favourites
Gökçe hasn't favourited any poster yet.