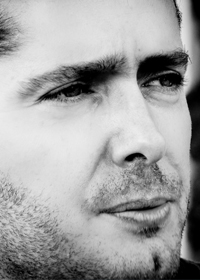 Panagiotis Metallinos
Thessaloniki, Greece
My networks
My website
About me
Panagiotis Metallinos was born in April 1969 in Thessaloniki, where he lives and works. He has studied graphic design and visual communication.
He started working in the field of advertising and the graphic arts in 1987. In 1988, he established his own creative firm, "metallus graphic design", through which he provides freelance services in graphic design, visual communication & photography projects.
Since 2006… read more, he has also taught graphic design and visual communication courses at AKTO Art & Design College.
He is also a co-founder of Toolkit Startup, an annual meeting for young graphic designers.
During the more than 25 years that he has been professionally active, he has collaborated with a wide array of private institutions, corporations, as well as public and state organizations.
His work has received distinctions in Greece and abroad.
Work
Freelancer graphic designer and photographer, teacher of graphic design and visual communication at AKTO Art & Design College, co-founder of Toolkit Startup
Education
Euclides Technical High School, Applied Arts Sector, Department of Graphic Design
Bachelor of Arts (BA) in Graphic Design, First Class Honors, Middlesex University, London, UK